News
Yes, You Can Stay at an All-Inclusive Resort in St Thomas, USVI
By: Bob Curley - November 18, 2023
The Bolongo Bay Beach Resort on St. Thomas may be the most popular all-inclusive resort you've never heard of.
It's not that the resort itself isn't well-known: this family-run and managed, beach resort has been in business since 1974. But it's only in recent years that the 75-room property has seen an overwhelming percentage of its guests choose to stay with an all-inclusive package.
Bolongo Bay has offered an all-inclusive option since 1989, bundling room stays with meals at the Iggy's restaurants, cocktails, water sports and other amenities. "My father Dick Doumeng quietly introduced all-Inclusive," says resort sales and marketing director Katarina Doumeng. "It was popular from day one, but mostly for weddings and honeymoons in the off-season."
As recently as 2019, all-inclusive was an option chosen by less than half of Bolongo guests. Since 2021, however, more than 80 percent of their guests are choosing to stay all-inclusive, including 84 percent of guests so far in 2023, according to Doumeng.
"All-inclusive is one of the most popular travel trends and growing rapidly," she says. "Guests know exactly how much their vacation will cost, they don't have to think about money while on vacation. All meals and drinks, gratuities are taken care of already so they can relax."
All-inclusive rates at the resort start around $600 per night based on double occupancy, about a $200 premium over the hotel's European Plan rates.
Companies like Sandals and SuperClubs pioneered the all-inclusive concept in the 1970s, but these days there are a wide range of resorts either offering pay-one-price stays as an option or that have gone completely all-inclusive. What sets Bolongo apart is that, while all-inclusive resorts are common in places like Jamaica and the Dominican Republic, it's one of the few offering this option in the U.S.
"We have been the only all-inclusive in the Caribbean under the U.S. flag, for a very long time, with the Divi on St. Croix just starting to offer it last year," says Doumeng. "Even traditional corporate hotel chains like Marriott are now starting to offer all-inclusive in some places, but still not in the U.S. Being in the U.S. and no passport required makes the USVI very appealing and easy to visit. You are going to the tropics, but are still home, with U.S. currency, English speaking people, etc., and that makes many people feel comfortable and safe traveling here."
The stereotype of the all-inclusive resort with hundreds of rooms and thousands of guests queuing up at mediocre buffets has been shattered in the last few decades. Travelers can now get an all-inclusive experience at a luxury resort, too, and Bolongo isn't the only sub-100 room hotel offering the pay-one-price option.
The St. Thomas remains unique, however, not just for its longevity but for its right-sized mix of attractive accommodations, beautiful beach, excellent dining, premium drinks, m a full-service dive operation, on-site catamaran available for sunset sails, and lively nightlife with live music five or more nights a week, with the latter soon to be enhanced by the reopening of the resort's legendary Iggy's Beach Bar in 2024, when the Doumeng/Nieboer family will celebrate a half-century of operating the resort.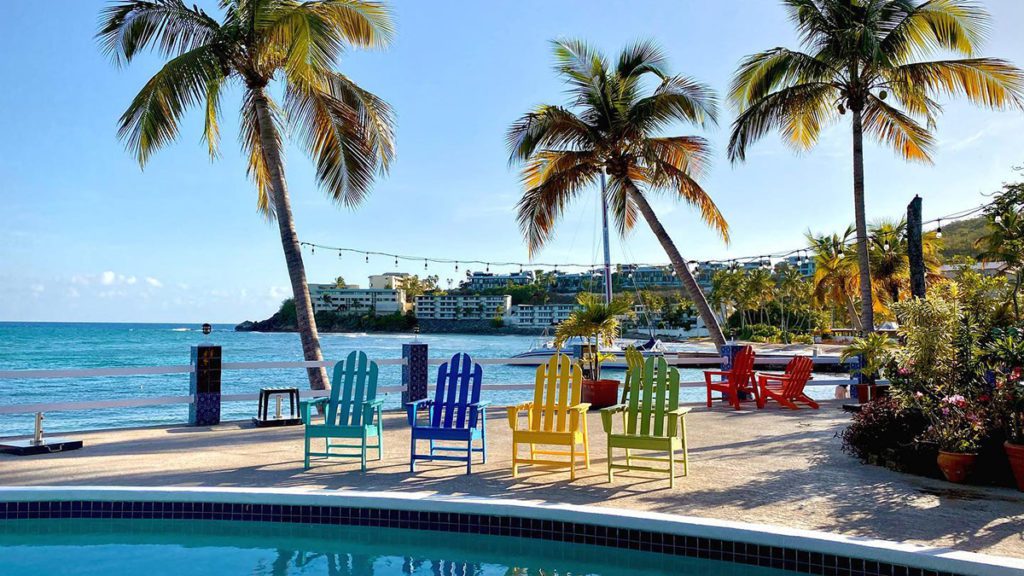 Resort activities include a popular dive/scavenger hunt for mini bottles of local Cruzan rum. The poolside Oasis restaurant serves three meals daily, with everything from the popular "bang bang" shrimp tacos to the famous Iggy's ribs available to all-inclusive guests.
"Being family run and managed, and having been around for 50 years with no change over in management, guests know what and who to expect when they come back for another visit so we have many repeat guests as well," says Doumeng.
Bolongo Bay's marketing slogan — "big enough to be real and small enough to be intimate" — translates well to the all-inclusive market.
"Guests make friends with other guests and with staff," says Doumeng. "It is not uncommon to see staff and guests sitting and socializing at Happy Hour. All guests, whether or not all-inclusive, benefit from a smaller resort: you are not just a room number. A smaller all-inclusive property is perfect for people seeking the perks of a 'no-worries' stay without sacrificing the charm, individuality, and personalized experiences that come with a smaller property."
For more, visit Bolongo Bay.