News
How This Aruba Resort Sets the Standard for Sustainability
By: Bob Curley - April 1, 2023
Growing up on a farm gave Ewald Biemans a love of nature, but it was watching Aruba grow into a global tourist destination drawing millions of visitors each year that spurred him to create arguably the most environmentally responsible resort in the Caribbean.
"When I came to Aruba in the 1960s it was a unique, clean paradise with unspoiled nature," said Biemans, owner of the 104-room Bucuti and Tara resort on Aruba's Eagle Beach. "Over the years, I saw the degradation."
The boutique Bucuti and Tara resort not only has consistently won accolades for its great amenities and service (including being named Aruba's hottest hotel in 2023 by Caribbean Journal), but also has won awards for its sustainability program.
The Caribbean's first carbon-neutral resort, Bucuti and Tara also has been certified as Green Globe Platinum, with the group calling the hotel the most sustainable in the world; LEED certified; and ISO certified for its environmental management standards.
Principle clearly motivates Biemans — "climate change is my biggest fear," he says — but he's not shy about the fact that the green benefits of his sustainability programs are monetary, too. "It initially costs more, but in the end it saves money and saves the environment," Biemans says.
The financial payback comes in many forms, from the hundreds of thousands of dollars saved annually by eliminating most uses of paper (guests get a take-home reusable stainless-steel water bottle in their room to use throughout their stay, for example) to what Biemans acknowledges as "millions of dollars worth of free publicity" for its commitment to sustainability.
The sustainability program at Bucuti and Tara is both comprehensive and ongoing; Biemans is always looking for new ways to cut waste and reduce the resort's carbon footprint.
"We keep up with new technology and implement it in the hotel," he says.
Inside the resort, sensors turn lights and climate control systems off when not in use; outside, the hotel buildings have been covered with specially formulated paint called MIG that reflects sunlight in Aruba's perpetually hot and arid desert environment. Investing in the paint and a new variable refrigerant flow (VRF) climate control system has resulted in a further 25 percent reduction in the resort's already lean energy consumption.
Bucuti and Tara's offices are 100 percent off the grid, powered by solar panels on the roof; hot water used on the resort also is heated by the sun. The resort has cut its landfill waste by 65 percent and its food waste by 35 percent.
"Water is god in Aruba; we cringe when people waste it," says Biemans, so the hotel uses low-flow toilets, showers and sinks and recycles water for use in its gardens.
Far from being seen as a hardship, resort guests embrace the sustainability efforts, says Biemans.
"Almost nobody complains about the sensors. Some people will choose us because of our practices," he says. "Every third remark we get is about our sustainability program and how they are proud to be part of that. It's more and more desirable for people to have a guilt-free vacation, and here they generate fewer emissions than they would if they stayed home."
The 'dirty secret' of clean operations is that hotels can prosper if they buy in. Bucuti and Tara, for example, has routinely enjoyed average occupancy rates in excess of 90 percent, and has the second-highest per-room revenue in Aruba, says Biemans.
Other hotels on the island "have all done some sort of conservation," he says, but independent properties tend to be more proactive than chain hotels, which Biemans says "have to respond to shareholder demands."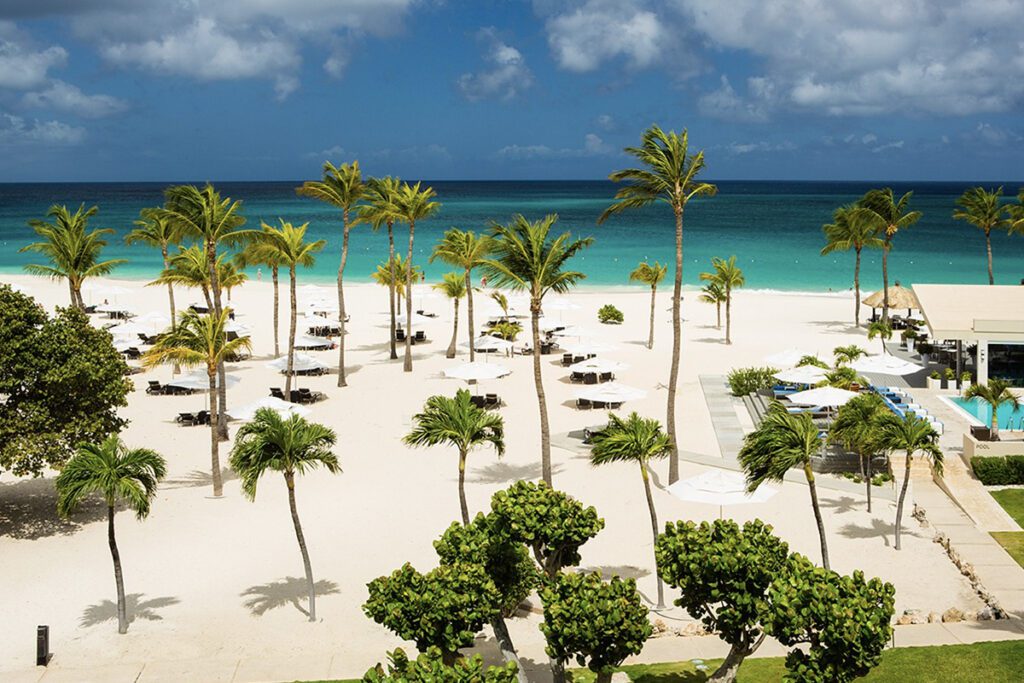 "They don't care bout Aruba and environmental destruction there, they care about revenue," he says. "Branded hotels have conservation politics, but don't do as much as that should be."
Aruba tourism officials boast that the island has more sunny days each year than any other destination in the Caribbean, and Aruba's iconic divi divi trees can attest to the trade winds that constantly sweep across the island. The Aruba government has invested in sustainable energy: combined, wind and solar provides 25 percent of the energy used on the island, and the goal is to reach 50 percent sustainable power by 2030, says Blemans.
However, there are limits on how much energy can be produced by wind and solar, even on Aruba. Land for installing solar arrays is limited, and current law protects the island's utility company — which uses fossil fuels not only to provide electricity but water as well — by capping how much customers can generate from sustainable sources.
Bucuti and Tara, for example, currently produces about 20 percent of its own power from solar panels installed three years ago, and could probably double that, says Biemans. But Aruban law prevents the hotel from generating more than 25 percent of its power sustainably.
Despite such shortcomings, Biemans sees Aruba as a glass half full when it comes to its sustainability efforts, and when it comes to his own resort, the hotelier continues to look for every opportunity to reduce not only his own carbon footprint but the island's as a whole. He supports solar and wind power, but also efforts to shift from oil to somewhat cleaner natural gas, for example, as well as investigating hydrogen as a potential power source.
Bucuti and Tara are continuing to work on transitioning from carbon neutral — removing as much carbon from the atmosphere as the resort produces — to attaining "net zero" status — cutting its own greenhouse emissions as close to zero as possible.
Progress towards this goal involves steps both large and small. Currently, Bucuti and Tara meets it carbon neutral goals in part by offsetting emissions in part by buying wind energy credits and planting 30 acres in the town of Noord with native trees. Sourcing products as locally as possible and cutting back on use of products like beef on hotel menus is another way to chip away at the resort's carbon burden.
"Travel is the biggest problem to getting to net zero," says Biemans, who has cut back on his own travel as well as investing in an all EV fleet of vehicles at the resort and subsidizing the purchase of solar panels and electric vehicles for employees.
"We look at every aspect," he says. "There are a lot of things that can be done without major investments."
Biemans continues to be a leader in sustainable hospitality, evangelizing among his peers not only about the benefits of green practices to the planet but also to the bottom line. He regularly meets with other hoteliers and researchers, including a recent delegation from the Cayman Islands, to highlight the replicable steps that Bucuti and Tara has taken, and to advocate for a changed mindset among destination leaders.
"We're not in the tourism business," he says, "we're in the nature business."
For more, visit Bucuti.