All-inclusive resorts have never been more popular. Major brands around the world have been scrambling to add all-inclusive resorts to their portfolios, a nod to sizzling demand for the all-inclusive concept from travelers.
But all-inclusive resorts have also never been more different. Yes, you can still find the "traditional" all-inclusive, but there is a remarkable amount of choice for the modern traveler: you can do an all-inclusive adventure retreat; spend your week at in a private villa with a plunge pool; take a diving vacation. And that's true of the resorts themselves: large, small, family-owned, corporate, adults-only, private-island, city.
While you may notice some traditional larger brands in our 2023 ranking of the best all-inclusives in the Caribbean, you'll also see something you won't see on other rankings like this: a number of boutique, independent, family-owned all-inclusive resorts. The Caribbean is filled with them, but you have to know where to look.
We also want to highlight the full spectrum of all-inclusive Caribbean resorts, across the entire region. That means this isn't just a list of top resorts in all-inclusive strongholds like Punta Cana. It also covers a range of budgets, from luxury retreats to seriously budget-friendly places to stay. This is Caribbean-wide. So if you are planning your next all-inclusive vacation (or vacations) in 2023, we are here to help you. Here are the best all-inclusive resorts in the Caribbean.
Hammock Cove, the crown jewel in the Elite Island Resorts portfolio, is nothing short of spectacular: 42 standalone villas in a dramatic cliffside setting near Antigua's Devil's Bridge National Park. All of the villas have their own infinity pools and a breezy indoor-outdoor aesthetic; stocked bars, Bluetooth sound systems and, well, they're the kind of rooms you'll never want to leave. It's exactly what the modern traveler is clamoring for. That makes it the best all-inclusive in the Caribbean for 2023.
#2 Palm Island, The Grenadines
What could be more romantic than your own sun-drenched Grenadine fringed with talcum-white sand and famously studded with more than 1,000 palm trees? We'll let you know if we ever return from this private-island resort that's just about perfect among All-Inclusive Vacations. Palm Island has unveiled a major new addition. They call it the Seahorse Villa, a 4,000-square-foot private retreat has two bedrooms in a setting right on the sand. It's just another feather in the cap for this castaway-fantasy resort. 
This is Sandals Resorts International's 16th resort in the Caribbean: the new Sandals Royal Curaçao. And it's also Sandals' best resort in the Caribbean right now. The 351-room property is a dramatic transformation of the former Santa Barbara Resort, set on the 3,000-acre Santa Barbara Estate.It's home to a number of "firsts" for the Sandals brand, including a bi-level infinity pool, and new room categories like the Awards Seaside Butler Bungalows and Kurason Island Poolside Butler Bungalows. The hotel has 11 different culinary concepts, including eight eateries, joined by three gourmet food trucks and 13 bars.
#4 Spice Island Beach Resort, Grenada
This legendary, family-owned resort set directly on Grand Anse Beach is a traditional all-inclusive, meaning fine dining, premium drinks, non-motorized water sports, and access to the fitness center and kids club in one nightly rate. The 64 suites are spread around eight beachfront acres, all opening onto the sand or gardens and many featuring private courtyard pools. The private Janissa's Spa is Grenada's best. It's the essence of Grenadian hospitality and a Caribbean exemplar.
#5 Zoetry Paradiso de la Bonita Riviera Maya
In our opinion, this is the crown jewel of all of AMResorts' hotels. This beachfront oasis takes Zoëtry's wellness focus to the next level. The service, food and accommodations are all magnificent. And with just 100 suites, all oceanfront, there's the feeling that you're staying at a luxury boutique hotel. And that isn't easy to pull off.
The all-inclusive Beaches Turks and Caicos is Sandals' leading family-friendly resort. It is home to 10 pools, 21 eateries, a 45,000 square foot waterpark and five different accommodation "villages." There are activities for everyone from tots to teens, featuring Sesame Street characters, an Xbox Play Lounge and a teen disco—all located on Grace Bay beach. One of our editors said it was SRI's "most beautiful resort in the Caribbean."
#7 Serenity at Coconut Bay, Saint Lucia
This boutique all-inclusive has just 36 suites, all of which offer their own private plunge pools. That's along with personal butler service, 24-hour "gourmet" room service and even gluten-free dining options. The story, though, is about the rooms — you'll never want to leave them.
#8 Lopesan Costa Bavaro, Dominican Republic
The Costa Bavaro is the first-ever Caribbean resort for Lopesan, a Spanish company with a broad portfolio of resorts across Europe (the name comes from two families: Lopez and Sanchez) in places like Gran Canaria and Austria, among others. The resort, set on a prime stretch of Playa Bavaro, is beautiful, from the sweeping lobby to the multi-tiered pool to a pervasive, ubiquitous attention to detail and style and impressive build quality. And then there's the Boulevard, set at the back of the property, filled with restaurants, shops and activities, more than one would ever be able to enjoy in a single vacation.
This celebrated resort, set on a remarkable stretch of white sand beach has roughly 100 rooms and a breathtaking beachfront setting,. But that is just the beginning at this property, a haven for nature lovers, with remarkable biodiversity and an endlessly serene setting. The food is outstanding, particularly at the lovely Ismay's, and the rooms are splendid: choose from either toes-in-the-sand rooms right on the beach or the romantic, plunge-pool-equipped Gauguin Cottages.
It's always been one of the coolest places to stay in Jamaica, and that's still very much the case at this Negril institution. This boutique property offers everything from authentic Jerk barbecues to the delightful Blackwell Rum Bar.
The luxury all-inclusive, which was founded by the Hulford family in the early 1950s, has a total of 72 rooms and suites surrounded by a pair of beaches on the scening southern coast of Antigua. It's also arguably the leading tennis resort in the wider Caribbean region, with four lit, championship hard courts, a pro shop and a regular circuit of global tennis events.
#12 Fort Young Hotel, Dominica
Roseau's signature Fort Young Hotel and Dive Resort recently launched a new all-inclusive program, one it bills as an "all-inclusive, island included" experience, the only one of its kind in the Caribbean. That means it's not just about traditional all-inclusive offerings like food and beverage. The Fort Young all-inclusive program will give guests access to everything from lion fish catching expeditions to hiking and waterfall exploration. It even includes unlimited scuba and national park entry fees.
The O2 Beach Club, a reimagining of the former Ocean Two hotel on the south coast of the island, is set on 1,000 feet of white sand beach in the heart of the island's St Lawrence Gap. It offers a total of 130 guest rooms, suites and residences. It is also be home to one of just a handful of rooftop pools in Barbados, along with six dining concepts, seven bars and a massive 5,600-square-foot spa called Aqua.
One of two Oetker Collection properties in the Caribbean (along with the non-all-inclusive Eden Rock in St Barth), this private-island destination off the coast of Antigua is a work of art, with a staggering food and beverage offering and a gorgeous mix of rooms and villas. If you had to dream up a luxury all-inclusive private island, this would be it.
#15 Hermitage Bay, Antigua This OBMI-designed eco-luxe retreat has some of the most spectacular rooms you'll find anywhere, whether you choose a toes-in-the-sand cottage right on the beach or a hillside escape with a private plunge pool. This feels as much like a private club as a resort, and you feel it the moment you check in. Just a lovely place to be.
#16 Small Hope Bay Lodge, Andros, The Bahamas
It's about as far as you can imagine from the all-inclusive you're used to. Small Hope Bay Lodge is a small fishing lodge set on the mysterious, naturally beautiful Bahamian island of Andros, set on the third largest barrier reef in the world. This historic property has a mix of rooms and cabins, but the best part might be the stocked free bar right next to the beach. This is an all-inclusive for adventurers.
#17 Secrets Cap Cana, Dominican Republic
Since it first opened back in 2017, the 457-room, adults-only resort set a new standard for all-inclusives in Punta Cana. And that's still the case for this flagship Secrets resort, home to seven gourmet eateries, six bars and lounges (including a Preferred Club bar) and a spectacular setting on the blindingly white sands of Juanillo Beach. While the rooms are all beautiful (all of which have their own hot tubs, 24-hour room service and daily-refreshed mini bars), the swim-up suites are very much worth the splurge.
#18 Keyonna Beach Resort, Antigua
Keyonna Beach Resort is a beachfront property in Antigua for couples only, and it's got a lovely focus on delivering an authentic Antiguan experience. For us, the Beachfront Sanctuary Pool Cottages are worth the splurge: you get a private plunge pool, a private garden, a private outdoor shower, and steps away from what may as well be your own private beach are all top features of this category.
#19 Plaza Beach & Dive Resort Bonaire
Bonaire is one of the coolest small islands in the Caribbean. And while it isn't known for its all-inclusive resorts, this one is outstanding: 126 suites, including Junior Suites and Grand Suites located either next to the Caribbean Sea or next to the marina laguna. Some notable amenities include non-motorized water sport activities and a cozy beach bar. With one of the best beaches on Bonaire and a beautiful swimming pool, there is always a place to relax with stunning views. An expansion is also on the way with an even higher level of room categories.
#20 Los Establos Boutique Inn, Panama
Journey to the other side of the Caribbean Basin to this mountain retreat set 4,000 feet above sea level amid a 16-acre coffee plantation in the charming town of Boquete, an expat haven that's become one of the country's top cultural destinations. Go for a stay in the Coffee Cottage.
#21 Zoëtry Curacao Resort and Spa
Zoëtry Curacao Resort and Spa, a luxury AMR Collection property, has 72 suites. Each of the suites has either garden, "tropical" or pool views, set at the former Floris Suite Hotel outside Willemstad. Guests also get access to the nearby Dreams Curacao Resort, Spa and Casino, including that property's beach on Piscadera Bay. There's also a boutique Zoëtry Spa, with three treatment rooms, three indoor spa suites and another massage spa suite for couples, among other amenities.
#22 Margaritaville Island Reserve by Karisma Cap Cana
The Margaritaville Island Reserve by Karisma Cap Cana, set on Cap Cana's Juanillo Beach, has a total of 228 suites, along with 40 luxury villas, a pool and a spa. That includes three different categories of swim up suites, including beachfront honeymoon swim-up suites; swim-up premium suites and swim-up junior luxury suites. There's also a signature Jimmy Buffett Suite. That's along with six restaurants and five bars, all with the Buffett theme and one, of course, called Five O'Clock Somewhere (it's one of two swim-up bars on property). It's also home to an on-site Landshark brewery.
The Verandah resort, long Antigua's leading family-friendly all-inclusive, has completed another major upgrade to the property, and it looks better than ever. The all-inclusive resort has now completed a significant renovation of its Waterfront Suites, comprising about 80 rooms in total. The renovation included new furniture, upgraded bathrooms, fresh paint and hardwood flooring, new artwork and soft furnishings and what the hotel calls "a bright joie de vivre spirit." It's part of a broader redesign at the property, including the addition of a new coffee and pastry eatery, a new gift shop; a makeover at Nicole's restaurant and a full renovation of the fitness center. That's along with a new pool at the property's Rasta Beach.
#24 Calabash Cove Resort & Spa, Saint Lucia
Saint Lucia has one of the more diverse hotel products of any Caribbean island. That includes some tucked-away resorts, including some special boutique-style all-inclusives. Our favorite? Calabash Cove Resort & Spa, an authentic all-inclusive, adults-only resort with three types of accommodations, which all include a Jacuzzi for two. The categories are Water's Edge Cottages, Swim-Up Jr. Suites and Sunset Ocean View Jr. Suites. There are only 26 rooms on the property.
#25 Sandals Royal Bahamian, Nassau, The Bahamas Sandals Resorts International has officially relaunched its Sandals Royal Bahamian Resort on Nassau's Cable Beach, and it's practically a new resort. The 404-room property, set on a 15-acre site, has reopened following a dramatic $55 million renovation. The new-look resort has a host of upgrades and new additions. That includes everything from a new Butch's Island Chop House restaurant and Mr. B's bar; new beachfront swim-up butler and club level suites and "entirely new" concepts from 13 restaurants. The resort has also added the "Island Village," a group of standalone villas named after Bahamian cays, each with private pools and outdoor Tranquility Soaking Tubs.
The Colony Club, an Elegant Hotels luxury resort on the west coast of Barbados, has 96 rooms and is located on a beautiful stretch of coastline. The property has recently undergone a series of updates, including renovations to all of the 46 oceanview, luxury oceanview and luxury poolside rooms. It's our favorite member of the Marriott all-inclusive portfolio in Barbados.
#27 Bay Gardens Beach Resort, Saint Lucia
When this beloved resort introduced its all-inclusive program, it sent shockwaves through the industry. You see, this resort created the Caribbean's first all-inclusive dine-around program. That means that you can actually eat your "all inclusive" meals at an assortment of local restaurants in Rodney Bay — thanks to a brilliant partnership between the resort and the area's restaurateurs. It's a unique, wonderful concept that is now even being mirrored by major resorts (Sandals has debuted a version of it in Curacao, for example). The resort itself is splendid: authentic, warm and right on the beach. 
#28 Sonesta Ocean Point, St Maarten
This adults-only stunner is set on a prime perch on Maho Beach in St Maarten. The food is outstanding, the rooms are sleek and spacious (particularly the swim-up rooms) and the main pool is spectacular: a beach-style rooftop pool perfect for watching the planes taking off and landing. St Maarten has few all-inclusive resorts, but this one is easily the best.
St James's Club, Antigua  is a 100-acre property in the southeastern corner of the island. The resort, part of the Elite Island Resorts collection, offers 242 rooms, suites and villas, including Premium, Club, Premium Beachfront Royal Suites, or two- or three-bedroom villas to chose from. At this hotel, it's all about the water. It's about mornings swimming off the white sands of Coco's Beach, then afternoons paddling the calm waves of Mamora Bay. It's about spending the day with Mamora Bay Divers, Antigua's top diving operation, and experiencing one of the Caribbean's great undiscovered scuba spots.
The dramatically transformed and rebranded, 200-room Divi Carina Bay Beach Resort and Casino is an adults-only property set on the quiet east end of St Croix. It's the only all-inclusive in St Croix, and one of just two adults-only properties on the island (joined by The Fred in Frederiksted). Food and beverage concepts include the Waves Marketplace, Oceans Bar and Grill; Carina Cafe and Show Bar (set at the resort's on-site casino), Tuscany Ristorante Italiano and Pureroc, an eatery serving proteins grilled on a sizzling lava rock. The resort is also home to the new Oceans brand, a 50-room resort-within-a-resort concept that offers elevated amenities in its own room wing. (There's also an Oceans resort at Divi's St Maarten hotel).
#31 Royalton Antigua
The Royalton Antigua is part of Marriott's Autograph Collection and bills itself as a "family friendly all-inclusive resort." Even better? It's also home to the country's first-ever overwater suites. Blue Diamond's Royalton Antigua is a 294-room all-inclusive that has a range of amenities from a kids' club to a signature spa. It's set about 30 minutes from Antigua's VC Bird International Airport, with a family-friendly focus, a beautiful beach and signature brand amenities like 24-hour room service, "DreamBeds" and weekly themed pool and beach parties.
#32 Hard Rock Hotel Punta Cana
The roughly 1,775-room Hard Rock Hotel & Casino Punta Cana is located on Macao Beach in the Dominican Republic. Among the resort's offerings are luxe accommodations featuring Hard Rock's branded "Rock Star Suite," the signature "Rock Spa," an 18-hole Jack Nicklaus-designed Hard Rock Golf Club at Cana Bay and a Las Vegas-style casino, featuring Oro nightclub.  Guests can also enjoy 13 pools, four swim-up bars, a kids pool and lazy river. That's along with 10 eateries. We've always liked this resort, chiefly for its vibe: it has a bit of Vegas energy, a rarity in Punta Cana.
#33 StolenTime by Rendezvous, Saint Lucia
The Rendezvous Saint Lucia Resort has officially rebranded as StolenTime by Rendezvous, with a focus beyond couples. The resort is the sister property to the celebrated BodyHoliday resort in Saint Lucia, with both part of the SunSwept Resorts portfolio. It's one of a small but robust collection of all-inclusive resorts across Saint Lucia.The change is related to the resort's longstanding "StolenTime" concept, which the property calls "a personal and authentic experience which enables guests to connect in a boutique five-star resort setting, away from the pressures of everyday life, where they struggle to find quality time and invest in their important relationships."
#34 Royalton Splash Riviera Cancun
The new Royalton Splash Riviera Cancun, part of Marriott's Autograph Collection, is a new-build property with 1,005 suites in a setting just north of the popular beach town of Puerto Morelos, about 35 minutes south of Cancun. The family-friendly resort is anchored by a large waterpark complex: that includes a pair of lazy rivers, a splash pad, and a total of 14 water slides and tube experiences. That's just the beginning of the property's universe of amenities. There is everything from a four-lane bowling alley to a trampoline park to 12 different culinary destinations.
#35 Pineapple Beach Club, Antigua
It's authentic, it's adults-only and it's set on one of the most inviting stretches of sand in all of Antigua. This is the Pineapple Beach Club, which specializes in effortless, laid-back Caribbean vacations. The grounds are beautiful (all 30 acres of them), and here it's all about enjoying the beach, the truly sublime Long Bay, one of the best beaches you will find anywhere in the Caribbean.
#36 Coconut Bay Beach Resort and Spa
Set on 85 acres, the property has 250 rooms, along with nine eateries, seven bars, five pools, tennis and basketball courts and a spa, among other amenities. That's along with a full-fledged, all-inclusive rum bar featuring rums from across the Caribbean. The resort consists of two wings: Harmony, an adults-only enclave, and Splash, the property's family-friendly wing. 
The private-island Fowl Cay resort is set on a 50-acre island in the heart of the Exuma archipelago in The Bahamas, is something of a closely-guarded secret. It's tiny, it's luxurious and it has a rather special amenity: every room gives you the use of your own boat during your stay. It's a mix of six villas, ranging from one to three bedrooms, all with fully-equipped, pre-stocked kitchens. It should be noted that Fowl Cay also offers buyouts.  
#38 Secrets Moxche Playa del Carmen
Arguably the hottest all-inclusive in the Mexican Caribbea, the Secrets Moxche Playa del Carmen is the latest in a growing all-inclusive expansion for Hyatt and its brands, and the newest Secrets resort in the wider Caribbean. The hotel, about 10 minutes from Playa del Carmen's Quinta Avenida, has a total of 485 suites set on a "pristine strip of white sandy beach," according to AMR. The hotel has Secrets' "unlimited luxury" program, which includes unlimited dining, unlimited drinks, 24-hour room service, pool and beach wait service and even in-room rolling bars.
#39 Sanctuary Cap Cana, Dominican Republic 
Sanctuary Cap Cana is a luxe, chic oasis that feels worlds removed from the Caribbean's all-inclusive capital. Sanctuary Cap Cana has 323 large guest rooms and an impressive location on an uncrowded white-sand beach. It has a unique blend of designs: part Spanish colonial, part medieval castle. But the core of this place is outstanding, and the swim-up rooms are some of our favorites in the region.
#40 Sandals Montego Bay This was the first-ever Sandals Resorts location; and we still are rather fond of it. Over the years, the resort has undergone a host of renovations, always pushing the envelope, always innovating, and today, the nearly 270-room retreat in Montego Bay is still a true Caribbean classic.
Visitors to the Zoetry Agua Punta Cana won't believe they're at an all-inclusive resort. Everything here feels unique, authentic, boutique. There are just  96 suites here, but it feels even smaller. The thatched-roof architecture feels right at home in this lush corner of Uvero Alto, and, true to the Zoetry philosophy, you never have to make a reservation.
#42 Cocobay, Antigua  The rooms here are spread across a mix of colorfully-hued cottages, with an emphasis on a throwback, barefoot-chic Caribbean experience. Our suggestion? Go for one of the pool cottages. Home to some of the most spectacular views, not just in Antigua, but the whole Caribbean, this terrific little adults-only all-inclusive is perched on a cliffside overlooking the spectacular Valley Church beach. 
The 155-room resort is famous for including a free spa treatment every day of a guest's stay. This is an all-inclusive for active travelers — and one that will almost certainly make you leave feeling better than when you arrived.
#44 Excellence Oyster Bay, Jamaica
At Excellence Oyster Bay, an adults-only all-inclusive resort located on a private peninsula just outside the town of Falmouth, Jamaica, accommodations are spacious and well designed. The food quality is consistently excellent, the daily schedule is packed with activities, and the staff is friendly and responsive to guest needs. The combination makes the Excellence Oyster Bay what one of our editors called a "lustrous pearl" among Jamaica's luxury all-inclusive resorts.
#45 Bolongo Bay Beach Resort, St Thomas
The venerable, family-owned Bolongo Bay is a no-stress hideaway. When the point of your Caribbean vacation is to just chill out over cocktails and lounge on the beach, this family run resort is the place to be, and that's how it has cultivated such a loyal following, with guests that return year after year. Rooms are right on the sand and steps from the shore, and the dining at the poolside Iggie's restaurant makes the all-inclusive package well worthwhile. No visit is complete without a sunset cruise on the Heavenly Days catamaran and taking part in the weekly treasure hunt for sunken rum bottles.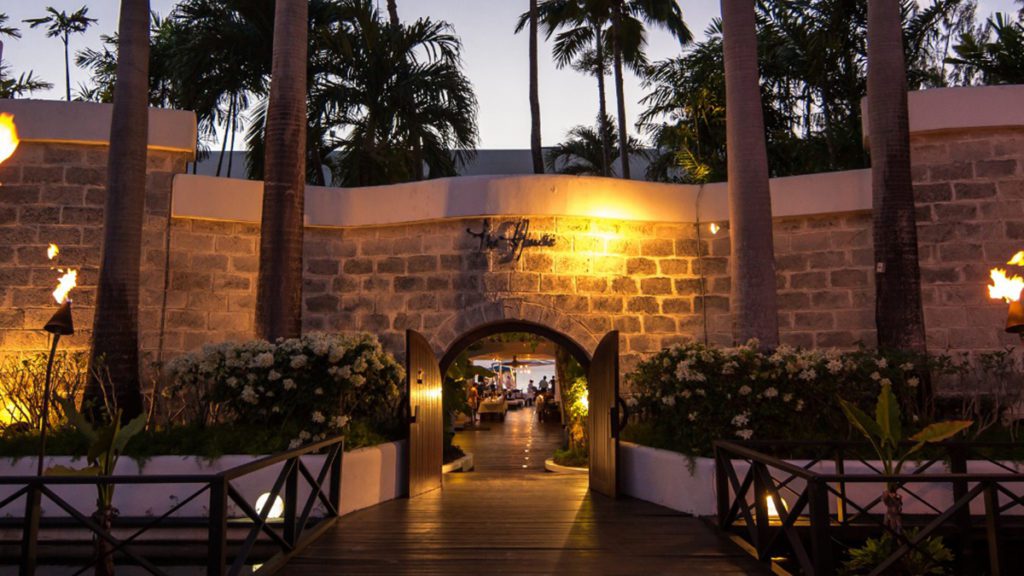 The torch-lit drawbridge, the daily champagne breakfast, the stunning beachside bar. It's the soul of Bajan luxury, in an endlessly intimate 34-room property. It's actually part of Marriott's all-inclusive portfolio. 
A reimagining of this legendary resort has turned this beach classic into a "cheap and cheerful" all-inclusive, the perfect place for pool days and rum punches. The biggest story? This is just about the best value all-inclusive in all of the Caribbean, if you're looking for a simple, wonderful Antigua beach vacation.
#48 Sea Breeze Beach House, Barbados This lively resort in the heart of Barbados' St Lawrence Gap delivers a beautifully laid-back, true-to-Barbados experience, with colorful rooms filled with local art, delicious, Bajan-focused food (the flying fish is scrumptious) and a welcome slate of activities from daily champagne and canapes to rum tastings.
#49 Breezes Resort Bahamas All-Inclusive
Perhaps the most famous Bahamas all-inclusive resort, this is a very affordable option for beach lovers. In many ways, this is a Nassau institution, and that's for one main reason: a prime position on the heart of the spectacular Cable Beach and extremely low prices.
Divi has become a rather popular brand in certain Caribbean markets, particularly in the Dutch Caribbean, and that's particularly true in Bonaire. The Divi Flamingo, which has a centerpiece all-inclusive package, is among the most complete resorts in Bonaire, from a casino to a spa to two pools and easy access to the sights and sounds of the capital, Kralendijk.