More and more travelers are looking for it, and the more you travel the Caribbean the more you realize what a precious amenity it really is: the private plunge pool. There is just something special about having your own pool, a turquoise oasis for hot days on the beach, a place for seclusion and tranquility. Thankfully, more and more hotels are delivering precisely that: all over the Caribbean, you can find hotels where plunge pools are not just a luxury — they're practically standard. 
We've gathered our favorite "plunge pool resorts" for you in the Caribbean, with an emphasis on hotels that make the plunge pool a priority. That means either every room in the hotel has a plunge pool, or a preponderance of rooms have their own pools. (And yes, we've included a few where the plunge pool rooms are fewer but simply cannot be missed). 
So take a journey across this list of the best Caribbean plunge pool resorts, all focused around our favorite amenity.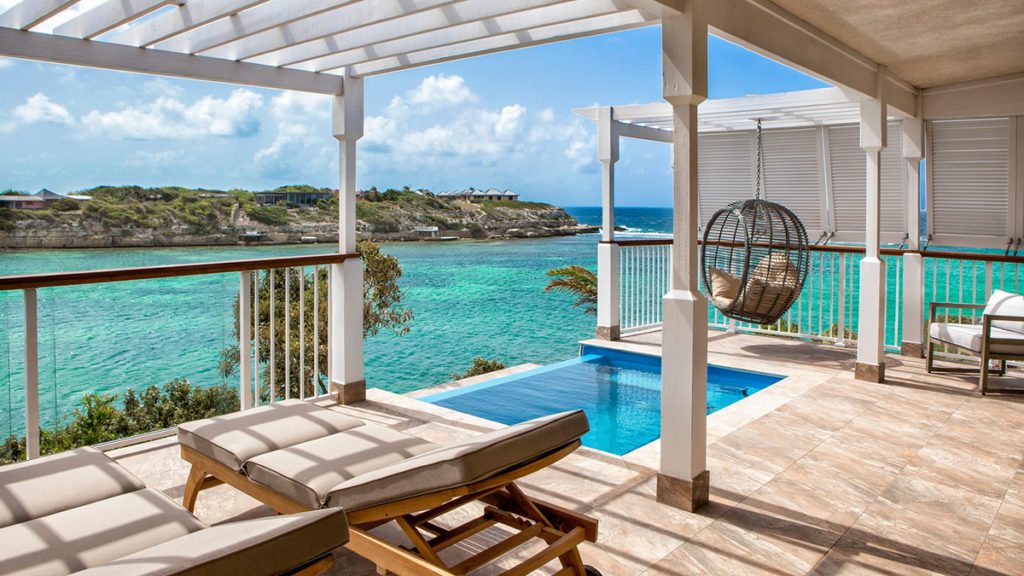 Hammock Cove, Antigua The ultimate Caribbean plunge pool resort, period. Antigua's hottest place to stay has 41 rooms in all, each of which comes with its own stunning infinity-edge plunge pool overlooking the sea. 
The resort, part of the Elite Island Resorts portfolio, has in just a few years become one of the most sought-after stays in all of the region, thanks to a Michelin-pedigree culinary program, terrific service and yes, the plunge pool rooms, replete with indoor-outdoor designs and large entertainment decks with wet bars and fully-stocked mini bars. 
It's the essence of the plunge pool suite — and it's standard in every room here. 
Secret Bay, Dominica Dominica's greatest resort is a collection of some of the most stunning villas you will ever see, all built like high-tech, design-forward treehouses, with sparkling infinity plunge pools, state-of-the-art amenities and indoor-outdoor showers. 
The rooms are just the beginning here, though, where ultra-personalized concierge service comes with every room, married with marvelous, authentic, locally-sourced cuisine and a sweeping wellness program. 
Jade Mountain, Saint Lucia You've probably heard of this place, a bucket-list, romantic getaway hidden away in the hills of Soufriere, Jamaica. Well, the plunge pool suites here are as good as you've heard. They call them "sanctuaries" and they're truly spectacular, with massive infinity pools all in view of the island's world-renowned Pitons. 
The Hideout, Jost Van Dyke, British Virgin Islands It's the newest (and already, some might say best) place to stay in the British Virgin Islands, this stunning, seven-room Hideout on sparkling White Bay on Jost Van Dyke. The rooms are beautiful, the location is perfect and every single unit here comes with its own private, ocean-view plunge pool. 
Serenity at Coconut Bay, Saint Lucia One of the most romantic resorts in Saint Lucia, this resort-within-a-resort at the popular Coconut Bay all-inclusive is comprised of 36 cottage-style suites, all with exclusive butler service, 24-hour room service and private plunge pools with waterfalls. 
La Casa de la Playa, Playa del Carmen  It's the brainchild of the Xcaret Group, the company behind the eponymous eco park and the larger, 900-room Hotel Xcaret (and several other hotels in Playa del Carmen). But this one is decidedly boutique, with just 63 suites, all right on the ocean, every single one of which has its own private plunge pool. The resort itself is outstanding, with an emphasis on Mayan culture and food and a commitment to wellness. 
Cayo Espanto, Belize Tiny Cayo Espanto is a short boat ride from Belize's ultra-popular Ambergris Caye, but it's a universe away. There are seven villa-style units here, all with water's edge plunge pools and some that even come with their own pocket-sized beaches, too. 
Rosewood Mayakoba, Playa del Carmen The Rosewood Mayakoba is renowned for having some of the best, most attentive service in the wider Caribbean. But it's the rooms that really speak to us. There are 129 suites here, ranging from lagoon suites to beachfront suites to beachfront villas. And they all have their own pools, with some set on dedicated terraces. There's no place quite like Mayakoba and its acres and acres of mangroves and channels, and this resort is the centerpiece. 
Ladera, Saint Lucia Ladera pioneered the three-wall concept when it first opened its doors back in 1992, and it remains a beacon of romance, authenticity and Caribbean design. There are 37 rooms and suites, almost all of which have magnificent Piton-view pools, along with remarkable interior wall carvings and locally-made furniture. It's the essence of the Caribbean eco resort. 
Baoase Luxury Resort, Curacao Curacao's premier resort boasts a world-class restaurant (regularly ranked among the best places to eat in the Caribbean), a lovely private beach and 23 indulgent, luxurious rooms, with more than half including private plunge pools. It's Bali meets the Caribbean here, joined by truly remarkable service. 
Eden Roc Cap Cana, Dominican Republic This a hotel for the bon vivant, an indulgent, glorious hotel that is the best Relais and Chateaux hotel in the Caribbean. And while the food here outstanding, the rooms are the biggest story. Plunge pool suites predominate here, from luxury pool junior suites to the newest addition: a clutch of oceanfront pool villas that are some of the most spectacular places to stay in the Dominican Republic. 
Keyonna Beach Resort, Antigua This lovely toes-in-the-sand Antigua boutique all-inclusive has a collection of cottages, most of which come with their own, secluded, lushly landscaped pools. The broad design of the units makes you feel like you're staying in your own private villa at the edge of the sea — with the full amenities of an all-inclusive resort.  
Casas del XVI, Santo Domingo, Dominican Republic There isn't another hotel quite like this one on this list. That's because the charming Casas del XVI is set in the heart of a major city: the Dominican Republic's capital, Santo Domingo. The hotel, which consists of a series of units built out of 16th-century structures from Santo Domingo's colonial past, is an ode to hotel design, with endlessly creative rooms all with their own customized themes and aesthetics. And yes, most of them come with their own pools. It's the perfect way to experience the capital's 500-year-old Colonial Zone. 
Spice Island Beach Resort, Grenada The venerable, grand Spice Island Beach Resort is a titan of Caribbean hospitality, lovingly stewarded by the Hopkin family for decades, in continuing tribute to its late founder, Sir Royston Hopkin. The rooms, all set on or just off the island's marvelous Grand Anse Beach, are standalone cottages, most of which come with their own pools. It's a true Caribbean legend. 
Galley Bay, Antigua It's hard to think of a more romantic hotel in the Caribbean than Galley Bay, the Antiguan escape set on its own peninsula. But if you want to take the romance up a notch, go for Galley's Gauguin Suites, creatively-designed cottages built in homage to the legendary painter that all come with individual pools. 
Sandals Royal Curacao The newest resort in Curacao is the most impactful property on the island in years, having led Curacao to record-breaking tourism totals every month since its debut this summer. The new Sandals has 350 rooms, but we're particularly fond of the cutting-edge Awa Seaside Bungalows that come with private butler service, direct ocean views and sparkling, glass-edged infinity plunge pools. 
Cocos Hotel, Antigua This is a popular honeymoon spot and it is easy to see why. It's adults-only, it's set high above a luminous Antiguan beach, and it's home to some just-plain-beautiful rooms. Almost every room category here comes with a pool, joined by cool outdoor showers, hammocks, Adirondack chairs and the kind of views you can spend all day looking at. 
Cocobay Resort, Antigua If you haven't noticed already, Antigua is the Caribbean capital of plunge pool rooms. That includes the terrific Cocobay Resort. While Cocobay may be even better known as the home of the world-renowned Sheer Rocks restaurant, it's a excellent hotel in its own right, with a number of marvelous ocean-view cottages with plunge pools perfect for peering out at the wonder of the satin-turquoise water. The hotel even has a very cool option: a "floating pool" breakfast served right, well, in your pool.
Hermitage Bay, Antigua The eco-luxe Hermitage Bay is a mix of three room categories: toes-in-the-sand bungalows right on the beach, and hillside cottages perched above the sugar-white sand and a third category, the Starfish level. Both the hillside and Starfish rooms have their own plunge pools, with the Starfish options right at the edge of the water. You cannot go wrong with any of them. 
Calabash Cove, Saint Lucia While we didn't look at swim-up rooms in this story, the charming Calabash Cove in Saint Lucia offers both options for travelers: a mix of swim-up rooms and plunge pool units. The latter are called Water's Edge cottages, with nine in total, all with Balinese design and other amenities like jacuzzis, outdoor showers and hammocks.