Best of the Caribbean
The 20 Best Plunge Pool Resorts in the Caribbean 
By: Caribbean Journal Staff - December 13, 2022
---
More and more travelers are looking for it, and the more you travel the Caribbean the more you realize what a precious amenity it really is: the private plunge pool. There is just something special about having your own pool, a turquoise oasis for hot days on the beach, a place for seclusion and tranquility. Thankfully, more and more hotels are delivering precisely that: all over the Caribbean, you can find hotels where plunge pools are not just a luxury — they're practically standard.
We've gathered our favorite "plunge pool resorts" for you in the Caribbean, with an emphasis on hotels that make the plunge pool a priority. That means either every room in the hotel has a plunge pool, or a preponderance of rooms have their own pools. (And yes, we've included a few where the plunge pool rooms are fewer but simply cannot be missed).
So take a journey across this list of the best Caribbean plunge pool resorts, all focused around our favorite amenity.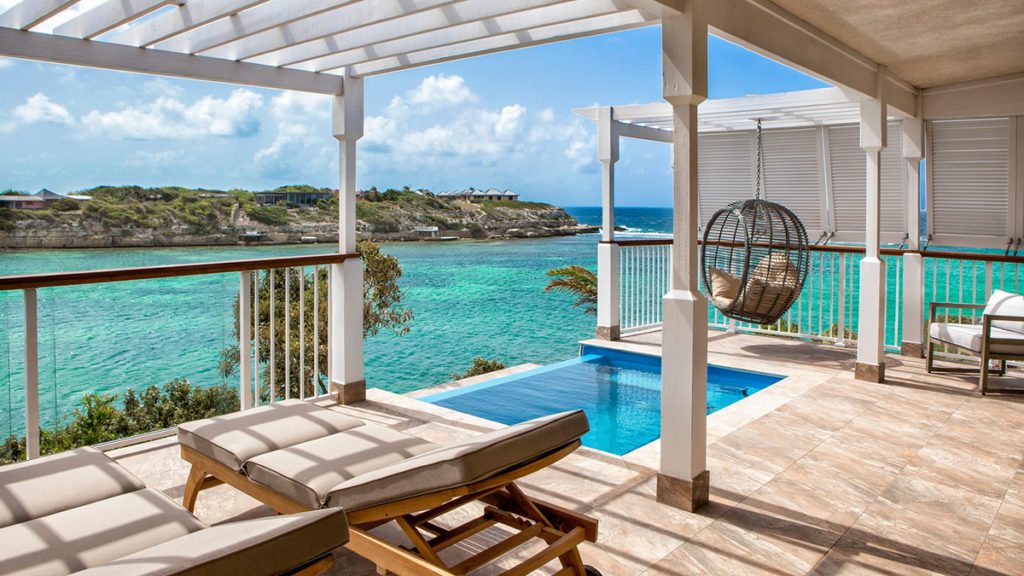 Hammock Cove, Antigua The ultimate Caribbean plunge pool resort, period. Antigua's hottest place to stay has 41 rooms in all, each of which comes with its own stunning infinity-edge plunge pool overlooking the sea.
The resort, part of the Elite Island Resorts portfolio, has in just a few years become one of the most sought-after stays in all of the region, thanks to a Michelin-pedigree culinary program, terrific service and yes, the plunge pool rooms, replete with indoor-outdoor designs and large entertainment decks with wet bars and fully-stocked mini bars.
It's the essence of the plunge pool suite — and it's standard in every room here.
---