Club Med helped pioneer the concept of all-inclusive vacations in the 1960s and 1970s, and people of a certain age doubtless remember the hotel chain's jingle from the time: "The Club Med vacation/The antidote for civilization."
Originally a no-frills concept with tented accommodations on the beach, Club Med has changed with the times and now offers travelers an experience that's entirely, well, civilized. Upscale and more family oriented, Club Med has properties in some of more intriguing locations in the Caribbean and still retains some of the quirky touches that made the resorts famous, such as trapezes and circus-themed play areas.
The Club Med properties of the Caribbean include:
Club Med Miches Playa Esmeralda, Dominican Republic
The newest Club Med in the Caribbean debuted in late 2019, shut down soon thereafter due to COVID-19, and has now reopened as an essentially brand new resort. As part of Club Med's Executive Collection, the "eco chic" resort on the Dominican Republic's northeast coast offers premium level accommodations and amenities in a part of the country as yet only lightly touched by tourism. Rooms are spread out in four villages scattered on 93 lush tropical acres and facing a long stretch of pristine beach. The Archipelago village is adults-only, while the Explorer Cove village welcome families with kid-friendly amenities and a private pool, plus an exclusive resort-within-a resort dubbed La Perla. Wellness-oriented travelers gravitate to the Emerald Jungle with its spa and Zen Pool.
Club Med Turkoise, Providenciales, Turks and Caicos
Set on one of the world's best beaches, Grace Bay, the adults-only Club Med Turkoise has brightly appointed guest rooms in low-rise buildings, including top floor oceanview deluxe rooms with balconies. In addition to the main restaurant serving three meals daily, all-inclusive dining options include Sharkie's Grill & Beach Bar, the oceanfront Blue Coral bar, and a wine bar serving premium vintages at additional cost. Activities include tennis, a fitness center, and watersports (including scuba diving); spa services are available, but cost extra.
Club Med Punta Cana, Dominican Republic
The Club Med Punta Cana has an exclusive adults-only enclave (the Zen Oasis) and the family friendly Tiara collection of 32 suites with separate bathrooms and bedrooms for kids, five-star amenities, and activities that include fitness, golf, and archery lessons. The resort has a kids club for guests ages 4-17 and a unique Cirque du Soleil activity area where adults and kids alike can learn bungee jumping, flying on a trapeze, aerial silk dancing, tightrope, trampoline, juggling, percussion and more. All-inclusive dining options include 7 restaurants and bars.
Club Med Caravelle, Guadeloupe
Club Med feels quite at home in the French Caribbean, and the all-inclusive Club Med Caravelle resort welcomes families to a familiar hotel brand where you can enjoy authentic French Creole cuisine at the restaurants, French wine in La Cave, and a local ti punch at the Mango Bar. The resort features family friendly connecting rooms to create mini suites, kids clubs catering to all ages from infants to teens, a SOTHYS spa for the parents, and yoga, cardio, fitness, and trapeze classes.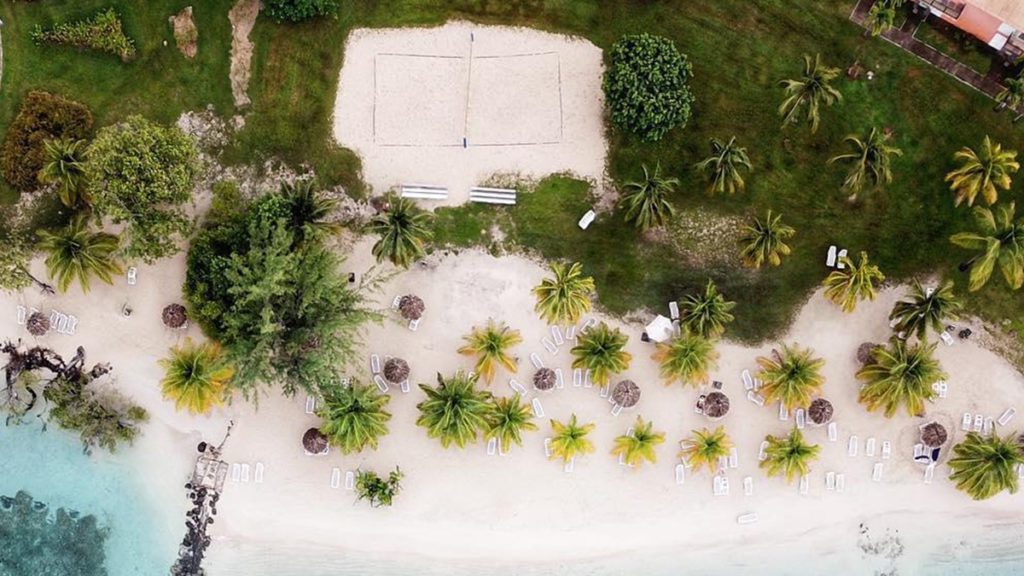 Club Med Buccaneer's Creek, Martinique
Guided hikes, mangrove paddles, and kitesurfing lessons point to the true nature of this all-inclusive resort in the French West Indies, which takes full advantage of its lush beachfront locale to offer a broad range of included activities to guests. All rooms have ocean views, and dining options include a buffet restaurant, a new open-air beach eatery serving local Creole cuisine, and drinks and snacks at the rustic Madou bar.
Club Med Columbus Isle, Bahamas (Reopening in 2022)
San Salvador in the sister islands of the Bahamas was hit hard by Hurricane Joaquin in 2015, with the Club Med Columbus Isle suffering severe damage. The resort remains closed as renovations continue, but a reopening date has been announced for October 2022 (pushed back by COVID-19 from a hoped-for December 2021 reopening). When it does start welcoming guests again, the resort will have ocean view rooms on one of the best beaches in the Bahamas.