With 700 islands and cays, it's no surprise that the Bahamas has always boasted a world of great places to stay, with the best Bahamas hotels ranging from large hotels to chic boutiques to private islands resorts. There is something for everyone to find in the Bahamas, whether you are looking for a traditional luxurious beach getaway or a funky, hip retreat. But sorting through so many hotels can be difficult; that's why we're here to help you, with our landmark listing of the top 25 Bahamas hotels.
One & Only Ocean Club It's all about understated elegance at this former private estate-turned- resort on Paradise Island. The highlights: rooms in the original Hartford Wing, which have just been renovated in contemporary cool style; a sleek new ocean-view infinity pool; and fittingly fancy airport pickup in a fleet of WI-FI-equipped Bentleys.
Kamalame Cay We're suckers for private-island resorts like this Andros retreat, where a maximum of 60 guests staying in a swoon-worthy clutch of suites and villas can while away their days sunning on nearby sandbars, fishing the surrounding waters; or being pampered in the Bahamas' only over-water spa. Andros is an under-the-radar Bahamian destination, but it's full of some of the Best Bahamas Hotels.
Deep Water Cay This two-square-mile private-island resort just east of Grand Bahama is famous as a bonefishing destination but you don't need to be an angler to appreciate its other assets. We love its comfortable villas; warm, starfish-studded waters; and the sublime strip of sand known as Swimming Beach. It all makes for one of the greatest Bahamas hotels.
The Cove, Eleuthera It doesn't get much more chic (or private) than this clutch of white-on-wood suites and villas that surrounds a pair of sandy strips and brackets a 110-foot-long ocean-view infinity pool. And it's just under an hour's flight from Miami, making it the perfect long weekend escape for stressed out civilians and celebs alike and one of the Best Bahamas Hotels.
Graycliff We love this 20-room family-run inn – Nassau's oldest hotel – for its elegant yet unpretentious vibe and, of course, the 175,000-bottle wine cellar that's the third largest in the Western Hemisphere. And any hotel that makes its own cigars scores extra points with us. This is a Bahamian classic, and forever one of the top Bahamas Hotels.
Pink Sands More than 60 years ago this hotel was the first to open on Harbour Island's now-famous beach. Today the 25-cottage resort has lost none of its appeal. In fact, it's adding to it with renovated cottages and new ones with private swimming pools being added to the mix as part of an ambitious four-year project.
The Cove Atlantis This resort-within-a-resort at Atlantis offers a luxurious and sophisticated beach experience for travelers with deep pockets, and debuts refurnished guest rooms this season. When you're not en suite, head to Cain At The Cove, the adults-only pool and beach club where butlers attend to plush cabanas and the beautiful people soak up the sun.
The Island House New to Nassau's Lyford Cay area, this creative hotel concept combines 30 rooms with amenities the local community can enjoy. Among them: A small cinema; a spa; coffee shop; and a fitness center. Shima, the Southeast Asian-inspired restaurant, is a delicious discovery.
Staniel Cay Yacht Club Want to swim with pigs, play with nurse sharks, and see idyllic islets owned by celebrities? This 60-year-old Exumas enclave of 14 shabby-chic bungalows is a perfect base from which to do all that and more. And after a day spent out on the water (this is the Exumas, after all), recounting your adventures over a rum drink at the clubhouse bar is a required (and entertaining) ritual.
Stella Maris Resort, Club & Marina This family-owned property on Long Island offers good value, with a range of rooms, suites and cottages to suit most vacationers. Lounge by one of three pools; go boating, diving or kayaking in the waters that have made the Bahamas famous; or just contemplate the sunset over a Moonshine Special at the beach bar. This is the Caribbean vacation experience distilled to its essentials.
Valentine's Resort and Marina, Harbour Island This terrific boutique Bahamas hotel is the best of both worlds: prime positioning on Harbour Island and a full-service marina. The spacious suites are designed in classic Bahamian decor with a nod to the historic dwellings that once called the site home. The food is superb, too.
Ocean View Club "Pip's Place" (as locals know it) is a Harbour Island find. With a handful of art-filled, stylishly designed rooms, and an unpretentious and homey vibe, this is perfect low-key spot for creative types and the people who love them. (Say hello for us to the owners' dog, Busta Rhymes, when you get there.)
Tiamo On South Andros, this eco-luxe 10-villa hideaway is accessible only by boat or seaplane so it's a bit of a challenge to get to and from. But that's just as well, since after a few days spent swinging in a hammock, snorkeling The Crack, and sipping sunset cocktails in the Great Room, you'll be looking for any excuse to stay.
Compass Point On Nassau's Love Beach, this boutique resort is much loved for its clutch of colorful waterfront cottages, which all face the ocean. Stay at this retreat and you'll feel a world apart from the bustle of town yet be only five minutes' drive away.
Atlantis Your options are almost endless at this mega-resort that dominates Paradise Island with more than 3,000 rooms, 40 restaurants, 13 pools, a 141-acre water park, and the Bahamas' largest casino. A new Ocean's Edge wedding pavilion; revamped Royal Towers rooms; and the new Salon Privé private gaming room for high rollers offer extra incentive to visit – as if you needed it. This has always been one of the Best Bahamas Hotels, and that's still true today.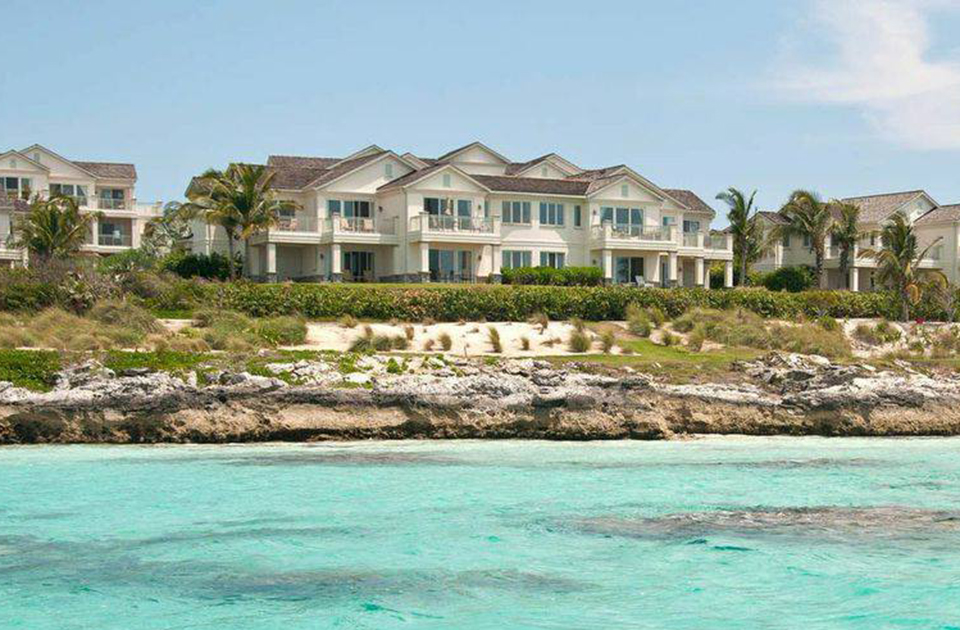 Grand Isle Resort On Great Exuma, this resort is relaxed enclave of 78 villas that preside over the stunning white-sand sweep of Emerald Bay. Spacious townhouse-like accommodations are perfect for families and groups, and golfers couldn't be any closer to the manicured fairways of the neighboring Greg Norman-designed course.
The Dunmore This genteel Harbour Island haven gets our vote for its 16 cottages artfully decorated in Caribbean-casual style and a restaurant that never disappoints. Throw in a prime beachfront location and a vibe that's just the right amount of relaxed and it's hard to come up with a reason to leave.
British Colonial Hilton A location at the westernmost end of Nassau's commercial artery, Bay Street, makes this 288-room hotel convenient for business travelers. But its beachfront position (it's the only downtown hotel on the sand) makes it a slam dunk for sand seekers, too.
Rock House When you're on Harbour Island a meal (or three) at the superb ocean-view restaurant here is a must. But staying in one of the 10 rooms and suites at this schoolhouse-turned-boutique hotel is an even better idea.
Coral Sands You simply can't choose a bad room at this Harbour Island retreat because all 38 are mere steps from that famous (and eternally enticing) swath of pink sand beach. Health nuts can work up a sweat in the new gym, after which we suggest proper hydration, preferably with a frosty Coral Sands Smash at the Beach Bar. In other words, it's one of the Best Bahamas Hotels.
Fernandez Bay Village Headed to Cat Island? Head to this relaxed family-run outpost. You'll live the quintessential island-style life, swimming, snorkeling and sunning or perhaps catching bonefish in the nearby flats. Comfy cottages on this off-the-grid oasis will be a welcome bonus at day's end – as will a cocktail from the honor bar.
Abaco Beach Resort & Boar Harbour Since the Abacos are the boating capital of the Bahamas its appropriate to recommend this Great Abaco resort, which, with 200 slips, has the largest marina in the islands. For landlubbers, advantages of a stay here include spacious rooms and villas with kitchenettes so you can self-cater. But chances are you'll find yourself at the waterfront Angler's restaurant, where the conch fritters and guava duff make eating in irrelevant.
Small Hope Bay Lodge If you're looking for a flip-flop friendly Crusoe-esque getaway where everything from bait to bar drinks is included in the rate, look no further than this 21-cabin Androsian all-inclusive, where the living is easy and so is the bonefishing.
Bimini Big Game Club, Resort & Marina Fishing fanatics will fall hook, line and sinker for this North Bimini favorite, which has its own 75-slip marina. Renovations last year have yielded a new pool, two revamped docks, and improvements to its 51 rooms and suites, but that "salt life" vibe and the convivial atmosphere at the eponymous bar are the same as always.
Hilton at Resorts World Bimini Its only 50 miles from Miami so there's no excuse not to hop over to this North Bimini hotel for some R&R. With the first phase of construction complete, 240 rooms (of 305); six restaurants; and a casino are now open. By the end of spring a spa; three more restaurants; and a rooftop infinity pool should be added to the mix.
This has been updated with new information for 2017.